A special message from Emanuela Marinelli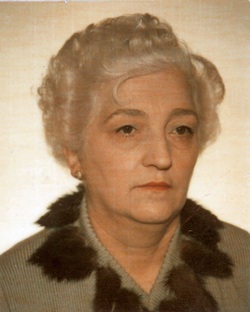 A great friend of the Shroud has left us: Ilona Farkas.
Born in Budapest (Hungary), she was the only daughter of Baron Farkas, a physicist who introduced the radiotherapy in the oncological hospital in Budapest. In this hospital she worked as a scientific photographer.
She graduated at the Academy of Music in Budapest, she has been an opera singer.
After the murder of her boyfriend, Count Brunswick, by the Nazis, Ilona has never married.
The family villa was destroyed by bombing during the Second World War and the Communists deported her, with her parents in a concentration camp for two years.
After the failed uprising of 1956, drowned in blood by the Soviets, Ilona managed to get a permit to come and study in Italy. When she arrived, she asked for political asylum.
In Italy she worked as a journalist for Radio Europa Libera and as an administrator for the Center of Sindonology of Rome. Then she worked for the Publishing House Giovinezza, which published the magazine Collegamento pro Fidelitate. She realized also, for the same publishing house, the newspaper founded by her, Collegamento pro Sindone. In 2000 she decided to close the paper magazine, whose construction had become too burdensome, and to post articles exclusively on the Internet.
In 2003, on her 80th birthday, Ilona realized that her strength was decreasing and could not continue to work. She retired from active life therefore.
Intelligent woman and very private, she has kept until the end her lucidity and her love for the Holy Shroud and for music. She was interested in all the news on the studies and research relating to the precious relic and loved to follow the concerts, operas and ballets on TV.
She died peacefully in his sleep at the age of 90 years old June 21, 2013.
We entrust Ilona to the Lord, accompanying her with our prayers. We will remember her with great nostalgia.
---